With the ever-increasing ubiquity of the Internet, the concept of online privacy and anonymity has lost its viability—Internet users can be held accountable for their virtual activities. Online posts that employ threatening language or jeopardize student well-being can, and recently have, been classified as cyberbullying.
On Dec. 9, an in-class quarrel in English teacher Jireh Tanabe's AP Literature class served as the impetus for what later was perceived as a threatening Tumblr post. Following a group's presentation on Charles Dickens' novel, "Great Expectations," a verbal confrontation occurred between seniors Jane Doe* and Mary Han regarding a difference in their interpretations of Dickens' text. Doe allegedly attempted to argue her point even as her turn was over, at which time Han interjected with an opposing question.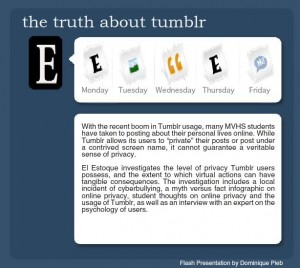 After school that day, Han published a Tumblr post which, in explicit language, continued her in-class dispute with Doe. The post's use of profanity and slang—particularly the phrase "ima CUT you [sic]"—became a point of contention.
"These days people say, 'I'm gonna cut you' or 'I'm gonna kill you' just to friends, so I just meant it that way, not that I would bring a knife and hurt her," Han said. "It was definitely not literal…it was just a phrase I've heard my friends use and I just kind of took it and used that."
Nonetheless, the ambiguity of "cut" persisted. One senior suggested in a comment that Han should "try cutting" Doe in a more physical way.
"[She] took it as a joke, and she continued the joke, but by that time I knew the joke had gone too far," Han said.
The senior declined to comment on the specifics of her online comment.
While Han may not have intended to threaten Doe through her use of slang, the post shook the latter emotionally.
"I cried in the shower thinking, 'Why on earth would someone want to hurt me?'" Doe said. "After I got out of the shower, I thought, 'I'm going to do something about this because if it's not me—I'm relatively strong—someone else could be killed [as a result of cyberbullying].'"
Doe decided to bring the post to the attention of counselor Shari Schussel, who referred the case to Assistant Principal Brad Metheany. Metheany then proceeded to hold conferences with Doe, Han, and two students who "liked" the post.
While Metheany declined to comment on this particular incident, he did note that those involved in similar cyberbullying incidents are called in for a discussion.
"It involves a conversation with students about understanding the power of their fingers, how they can deeply hurt people," Metheany said.
Because this was a first offense for all involved and because Han allegedly used the slang without understanding its connotations or its threatening nature, no further administrative action was taken. Han did, however, take the initiative to write an apology letter to Doe. She has also since changed the URL of her Tumblr to make it more private.
"I had no intent of doing any harm to anybody. It's just words, but sometimes when other people read them, [they can get] a different meaning than what you intended," Han said. "What you put online can hurt somebody else, and it's really not very private."
—
* Name changed on Dec. 30, 2015 upon request of the source.