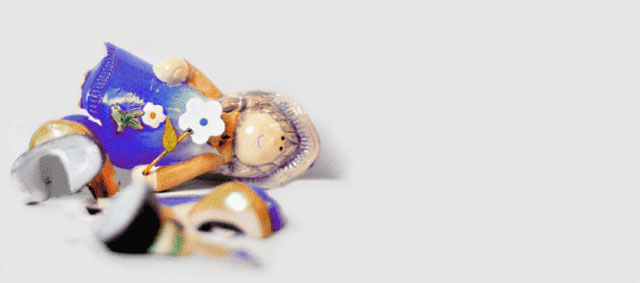 Before they stopped going on family vacations together, before they stopped eating dinner together, before they stopped singing songs at church together, she thought they were a "picture-perfect family."
The problems started when she, the youngest of three girls, was in fifth grade. Two of her grandparents passed away, financial troubles struck the family, her father started drinking heavily. And late at night, while she was sleeping, she began to hear the screaming.
The yelling and crying and slapping — the sounds of her father and eldest sister fighting — seemed surreal as she listened from her bed. The next day, the family would continue their lives without mentioning the incident. But each time it happened, the bitterness mounted, and the trust faltered.
For this female senior, who spoke to El Estoque on the condition of anonymity, her particular circumstances began to pull her family apart. An online El Estoque survey of the MVHS student body indicates that 53 percent of 393 respondents have been subject to physical discipline or abuse by a parent.
From discipline to abuse
Parents in the state of California can legally physically discipline their children; however, California Penal Code section 273d classifies "cruel or inhuman corporal punishment" or discipline that inflicts "injury resulting in a traumatic condition" as a felony.
"As long as I have that mindset that they're doing it because they love me, it's a lot more easier to bear … I don't think it ever hurts more than what it feels like inside."
– anonymous female freshman
A female freshman, who spoke to El Estoque on the condition of anonymity, did at times believe that her father's corporal punishment, coupled with his alcoholism, and her mother's prolonged absences from the house constituted abuse. She describes a typical beating as five minutes of caning upon the legs — which has left visible scars — or slapping. Although, in her mind, abuse is defined as "beatings with bad intentions."
"As long as I have that mindset that they're doing it because they love me, it's a lot more easier to bear," the female freshman said. "I don't think it ever hurts more than what it feels like inside."
A male senior, who spoke to El Estoque on the condition of anonymity, accepts the practice as a fairly inevitable product of his parents' cultural values and the nature of their upbringing. After sharing stories with peers, he realized that many Asian first-generation students could relate to his situation. He now views it as normal, given his inherited culture. For him, it's no longer abuse.
A generational cycle
The female freshman stated that physical discipline would occur if either she or her siblings failed to meet her father's expectations. Though she does not know much about her father's background, she believes that he, the youngest of 10 siblings, may have been physically disciplined as a child. The female senior and male senior also mentioned their fathers were subject to physical discipline.
Student advocate Richard Prinz stated that the practice may be perpetuated by generational influences; according to the male senior, in Korean culture, it is acceptable for both teachers and parents to physically discipline children.
"It would just be the typical hitting, I mean usually with some kind of long object, whether it be a yardstick … or like a branch from outside," the male senior, a first-generation immigrant, said. "But that wasn't even that bad."
Prinz added that conflict often arises from disparities in the belief systems of the involved parties. In the cases of the three anonymous sources, the sources felt as if their parents were pushing them on academic or achievement-oriented tracks that clashed with their own belief systems.
"I think, especially like a lot of Asian parents, they design who they want you to be. I mean, they love you, but … they choose who you're going to be," the female freshman said. "The type of person they want me to be is like, smart, Harvard doctor, rich, married to a rich [and] smart guy, no pets, two children and a nice tree."
The male senior remembers feeling envious and resentful when he was younger, whenever his mother compared his achievements with other children's.
"I kind of felt like a doll, you know, where you show it off to your friends when you're a little kid … and when your friends are not around you leave it on, you know, on top of your closet to collect dust," the male senior said.
He came to better understand his parents perspective with guidance from his elder sister, who he describes as more level-headed and in touch with the Korean culture. He feels that she accelerated his understanding by explaining the context of his parents' upbringing and reasons for their parenting style.
All three anonymous sources are opposed to physical discipline and would not practice it if they were to have children.
"My parents are lovely people, I know they are, my mom is extremely lovely, and smart, and my dad is really sweet … but I never want to hurt my kids," the female freshman said.
The female senior says that her upbringing, while difficult to bear at times, instructed her familial plans. She will provide her future family with that which she did not experience with her own. She will be sure to make spending time with her family, above all, her number one priority.
Fragmented families
For the male senior, the fights happen at night. On three occasions, immediately after an argument with his mother, he simply left the house for the night.
After his most recent such argument, he plucked his reading book out of his backpack and walked out the front door. That night in fall 2011, he camped out near the dumpsters at Target, using the light of a street lamp to study for his English test the next day. He stayed out for approximately three days.
His habit of leaving the house began around middle school, whenever the yelling and hitting became unbearable.
"I was just like, you know what? I don't want to deal with this anymore. I just want to go outside and cool my head for a few minutes. And then it turned into, you know, 10 minutes to 30 minutes to an hour," the male senior said. "It was more like, 'Okay, I just need to get out of this house and like sleep somewhere else for a full day and just give them a traumatic shock for a full day and if I come back, maybe it'll get better.' It's a really really bad way and I'm not proud of it."
In an online El Estoque survey of the MVHS student body, 76 percent of 393 respondents indicated that they had either left home or been kicked out by a parent, due to parental conflict.
"Usually a small argument rips off old scabs and you start talking about previous arguments that you thought you settled but really didn't … when you're in that state of frustration, you let out all the stops and it's just full war zone," the male senior said. "I guess my solution is, because hey, it's their house — retreat. Because it's war — what are you supposed to do?"
The female freshman, fearing the consequences, became very selective about the battles she chose to fight, such as the conflict over her decision to continue attending church. She says that she is rarely able to fight back without being slapped or temporarily kicked out of the house; the latter first occurred when she was six years old.
"If I don't ever fight back then … I'm never going to ever have a chance to fight back in the rest of my life," the female freshman said. "I told them like, "Okay, well if you won't let me go [to church] then I have really nothing to hold on to because this family's broken and I can't hold on to it and I don't want to hold on to anything else."
The male senior, however, consciously chose to remove himself from his parents.
"When there are clashes in values and opinions, it's almost like, you know, when you click on a news report. And you watch them and you hear what they're saying and you understand and you nod but you don't argue back to the TV, because they can't hear you," the male senior said. "It's just illogical to argue back."
Some consciously mask their emotions, as the female senior once did. And, although the female senior was not beaten — her father only struck her eldest sister, in what the female senior likened to a parental experiment, and her mother — the introduction of physical violence still affected her. She feared the magnitude that a fight might escalate to — especially when it involved her father. As a younger child, she was never sure if he might turn and slap her next.
"I never spoke much, I never spoke my mind to him," the female senior said. "Someone told me, 'Just nod and listen.'"
Though she sometimes felt a sense of hopelessness, she refrained from telling anyone about her circumstances until middle school. By fifth grade, two distinct identities had begun to surface.
"I felt like I had to put a front on … at school because everyone used to always tell me, 'You're always the laughing girl, you're always the smiling girl.' So when I was at school, I would do that," the female senior said. "I wouldn't be … all that happy at home … That's how I dealt with it, I think. But it was hard. I didn't like it."
Confiding in third parties
The female freshman explained that she concealed the details about her own family life from others because she felt embarrassed and feared that no one would care about her situation, though she eventually realized that there were people who loved her and would willingly converse with her on the subject. She believes others may choose not to share their situation because they fear that their parents might find out, entailing shame for the family.
"It's so taboo, it's looked so down upon … We never want to think that that actually occurs in our community now, but it does.
– anonymous female senior
People may also refrain from openly acknowledging their experiences with physical discipline, according to the female senior, due to a fear that others will view them as inferior.
"It's so taboo, it's looked so down upon," the female senior said. "Stuff like abuse and drinking and drugs, those things are always understated … We never want to think that that actually occurs in our community now, but it does. But people will never know. I feel like that should be changed before it's too late, and no one talks about anything."
And yet, the emotional implications of remaining reserved are taxing, according to both the female senior and freshman. The female senior did not confide in others until her father had already ceased delivering corporal punishment to her sister. She wishes, though, that she had done so earlier — refraining from seeking the confidence of others was burdensome, and an after-the-fact disclosure did not provide emotional release.
The female freshman further emphasized the negative effects that remaining withdrawn may have on the victim's psyche — she says that doing so has caused some of her friends to become depressed. She herself suffers from depression and anxiety.
"There's a point where … you just hit an edge, and you're just like, 'Ugh, I need to tell someone,'" the female freshman said. "If you tell someone, just someone, tell a squirrel just tell something, then it doesn't feel so lonely."
Professional resources and seeking help
If any teachers or classified public school employees become aware of an incident of child abuse, they are legally obligated by the state of California to immediately report the case to Child Protective Services and file a written report within 36 hours. Prinz estimates that he sends approximately six cases of abuse to the CPS each school year, although he recognizes not all incidents are reported.
Resources like hotlines and the Bill Wilson Center, which provides services for youth and families such as counseling and shelter, do exist. Yet Prinz noted that some children may fear that, if they approach a professional resource, CPS may forcibly remove their parents from the household. He states, though, that a more probable scenario would involve mandatory parenting classes for the offending party.
Since approaching others may be difficult for victims, the male senior urges others to take an active interest in friends whom they suspect may suffer from abuse.
"You should be the one initiating the question, even if you think it's nosy, because you might actually be helping the person, or even saving that person's life," he said. "They're never going to be okay, even if they say they're okay."
The path to reconciliation
Prinz acknowledges that it can be extremely difficult to reconcile a relationship with a history of hitting and hurtful words. Yet he believes there is a way out.
"A lot of times, I see the relationship become very cold, and there's not communication at all, there's not much warmth in the family," Prinz said. "So it is harder to mend … someone has to be willing to say, 'Okay, this isn't good,' and really have the patience and the perseverance to say, 'This isn't good.'"
Still, the female freshman finds it difficult at times to even find a reason to make amends.
"I know it sounds bad but sometimes I just want to get away from this family. Sometimes, I don't want to love them, I don't want to be with them. The only person that I really want to hold on to is my brother because he's still young and I love him with all my heart," the female freshman said. "I feel like, why give an effort if that effort's not going to go anywhere anyway?"
If she were to attempt to reconcile their relationship, the female freshman believes that the process would begin with a truthful discussion and an exchange of apologies — according to her, she has not yet had the "heart" to do so.
A parent of an MVHS alumnus and author of Strained Relations: Help for Struggling Parents of Troubled Teens, Marcia Stein also stresses the importance of conversation.
"I think that if kids can know that most of the time, the parent really loves you and really wants the best thing for you," Stein said. "So if you can be brave and either talk to your parents, or if you're worried about that talk with a counselor … talk to anybody that you can talk with and if that person doesn't really hear what you're saying, find somebody else."
Like the female freshman, the male senior does not particularly desire to actively attempt to improve his relationship with his parents, although he remains open to the possibility that their family dynamic may better itself with the time and distance attending college would afford him.
As for the female senior, her father recognized that corporal punishment was not effective for him when her eldest sibling repeatedly left the house during high school. Yet her father's old habits have resurfaced at times, evoking memories from fifth grade. Some two years ago, it happened again. But unlike fifth grade, this time, she spoke up.
The next day, she found an apology from her father scrawled on a Post-it: "I'm sorry for yesterday."
She crumpled it up.
Granted, things have gotten better since her sister graduated; the physical confrontations have become less frequent and her father has overcome his alcoholism. But according to her, the bitterness remains.
FUHSD student advocates have compiled a list of resources that youth can reach out to, including:
Child Protective Services: (408) 299-2071
Teen Help Line: (888) 247-7717
National Runaway Switchboard (800) 621-4000
Youth Crisis Line: (800) 843-5200
Bill Wilson Center, Santa Clara: (408) 243-0222
To read a related story regarding the breakdown of communication, click here.